Your
First Visit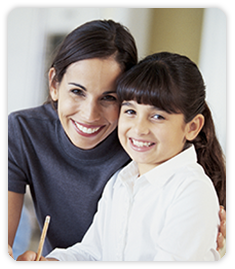 Dr. Castagna will assess your situation and discuss your options towards your beautiful new smile
At New Smile Orthodontics, we believe that education and knowledge are the keys. Patients will feel more comfortable if they know what to expect and are well informed of a procedure before it occurs. We try to avoid any unexpected surprises and let each patient know everything we are going to do before we do it. We give our patients all of the options available so they can make an informed decision.
At your first visit to our office, you will be greeted by our one of our friendly staff members and given a tour of the office. We will then gather the additional personal information and preliminary clinical information we need and discuss your orthodontic concerns and goals. To better serve your orthodontic needs, we ask that you complete the Health History Form, provided for you under the New Patient Forms section of our website.
You will meet Dr. Castagna and be given a complete orthodontic clinical examination. Following your initial examination Dr. Castagna will assess your situation and discuss your options towards your beautiful new smile. Most of your questions can be answered at this appointment. The first appointment is free of charge. Your next appointment will be to collect comprehensive orthodontic diagnostic records which consist of clinical examinations, x-rays, photographs, and study models. Dr. Castagna will diagnose your case after which you will have a consultation appointment with him to thoroughly discuss your case and set up a no interest payment plan.